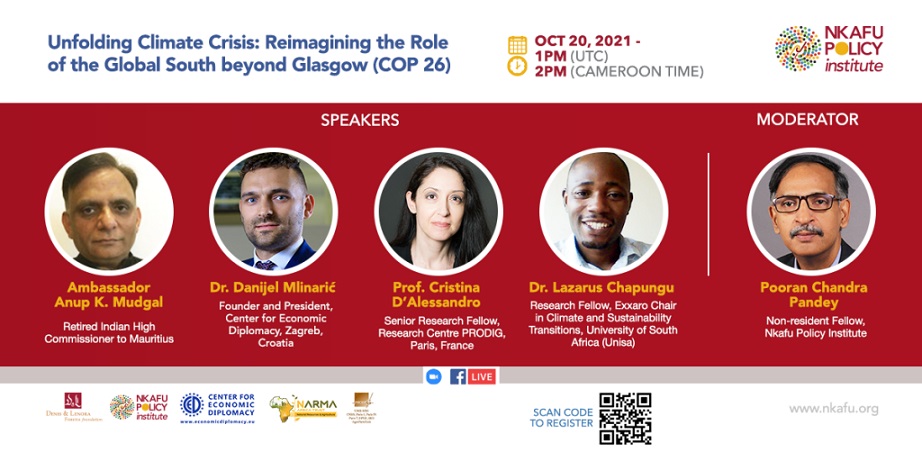 We are proud to announce our participation at the "Unfolding Climate Crisis: Reimagining the Role of Global South beyond Glasgow (COP26)" held this week in Cameroon (online) organized by Nkafu Policy Institute https://www.foretiafoundation.org/events/unfolding-climate-crisis-reimagining-the-role-of-global-south-beyond-glasgow-cop26/.
The goal of the discussion was to increase awareness on the issue of climate finance pledged by the developed nations to developing ones, transfer of technology and capacity building. The specific objectives of the discussion were to provide a platform for: Understanding the climate crisis agenda and accompanying issues; andReimaging the role of global South during and beyond Glasgow COP 26 and need for a global architecture for collaboration and collective action to rally at global climate tipping point.
The conversation was recorded, converted into a knowledge product for library and distribution purposes and for subsequent outreach.
Welcome remarks and brief introduction Fri Asanga: Chief Executive Officer, Denis & Lenora Foretia Foundation
Panellists
Ambassador Anup K Mudgal: Career Indian Diplomat
Prof. Cristina D'Alessandro: Senior Research Fellow, Research Center PRODIG – Paris, France
Dr. Lazare Chapunga: Research Fellow, Exxaro Chair In Climate and Sustainability Transitions, University of South Africa
Dr. Danijel Mlinarić: Founder and President, Center for Economic Diplomacy, Zagreb, Croatia
Moderator
Pooran Pandey: Non-Resident Fellow – Sustainable Development, Nkafu Policy Institute